One of the patterns I seem to repeat is starting new things and giving up the others before they even have a chance to take root. In many regards I spend more time in my head than I do planting my feet. I've essentially become an air plant starving for the grounding nourishment of mother earth.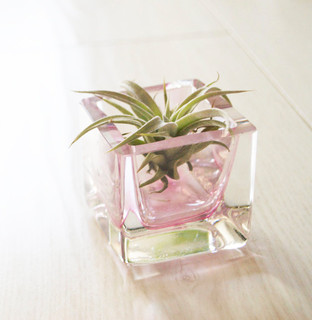 ZZZZZING! The divine is benevolent in her wisdom for only just now do my actions and my results begin to make sense to me. However, the divine also seems to be calling me toward a career change in holistic metaphysics. Huh?
On a spiritual level I've been asking for a way to help myself and others realize our full potential and opportunities toward that end have been presenting themselves so fast lately it truly does feel like magic. How can I ignore this? It can't be an accident that they are all coming together now, at the same time. The pull is so strong it's like being under the most incredibly wonderful, intoxicating, powerful spell in the whole world, a sure sign that I'm on the right path.
Just so you know, I haven't given up on the paper art for that is my first love. The next chapter in the Kell Belle drama is to find a way to combine my love of paper and design with aromatherapy and professional tarot reading. A 10-month tarot class designed to prepare the student to read professionally has opened up in the last two weeks. I also found an online aromatherapy certification program approved by the
NAHA
that I'm totally enamored with and can't wait to get started.
french tarot reader via DALAIWMN on flickr
Being able to prepare bath salts, recipes and other beauty products imbued with both intent and practical ways of working through the blocking emotional issues that hold most of us back sounds like nothing short of sheer heaven to me. Designing pretty labels and bottles, maybe some sachets and perfume cards to go with it adds another exciting dimension. Clothes make us feel pretty. When it isn't practical for us to wear something in particular, we can still appreciate it in paper form. We can add beautiful garments to our visualizations where anything goes and nobody judges.
The daunting days at work seem a little less tedious and I actually have bit more lilt in my step. I can envision that yurt in Sedona with the hard wood floors, the organized craft space, the peacefully zen like tarot reading space, exquisite scents that fill the air, birdsongs and the gentle gurgling of a fountain or stream. All of this together presents a vivid picture in my mind's eye of the most incredibly magical life I can imagine! That same passion of life is what I wish for you if you'll only step through the door.